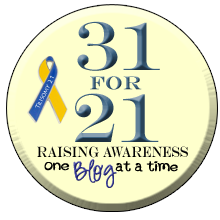 Ok So I'm kind of cheating in that I didn't start the 31 for 21 on the first of October, but I am going to try to finish the month at least.
Quickly, I will note that I have added a Reece's Rainbow Slide show button on the right to show my support of an absolutely wonderful cause.
I'm only just back in the blogosphere and I have a lot I would like to write about but I'm a little stressed, tired, and frankly, spread too thin to even think lately. Going back to work has certainly helped but I need to get back to a good solid routine.
Last night I didn't manage to get INTO bed until 1 am and then Phoenix was up at 4 looking for a snuggle and wanting to be tucked back in to bed. Hunter then woke up at about 5:20 and while I was trying to put him back to sleep Phoenix woke up again, which, pretty much woke Hunter up for good. I tried to snuggle them both back to sleep in Hunter's bed but neither one of them wanted to go back to sleep I guess. I was looking forward to Coleen's visit today so that I might be able to put Phee down for a nap and then have a snooze my self for an hour while Hunter played. That didn't work out quite as I had planned. Phoenix was getting pretty cranky around 8:30 am, so I put her back to bed and went to lay down on the couch and hang out with Hunter while we waited for Coleen. Hunt climbed up into his play pen that we have out in the living room at the moment and played quietly. I closed my eyes on the couch. I woke up at 9:15 and realised that Coleen was supposed to be over. I gave her a call to see if she was running late. She wasn't. She had been to the house, rang the door bell three times and had even called the house from the front step. And I slept right through it all. I can't tell you how upset I was when I realise that I had slept through her knocking and calling. I caused poor little Hunty to miss his play date. I just cried and cried. I felt so terrible, but I must have been absolutely exhausted if I didn't hear Coleen at all. How tired does a person have to be, to sleep through the door bell when the front door is less than 10 feet from where they are sleeping?
I spent 2 hours with Hunter myself this morning. Colouring, helping him with his glasses, playing with his guitar and drums.
I'm still mad at myself. And on top of all that Coleen has a doctor's appointment tomorrow, so he will miss her visit then as well. :(
Nana suggests I leave the door unlocked for Coleen I might have to do that.
Bad Mommy!